Environmental Action for Corporate Sustainability are divided into the following main activities:
Implementation of the Environmental Law
Energy Management and Climate Change
Water Management
Waste Management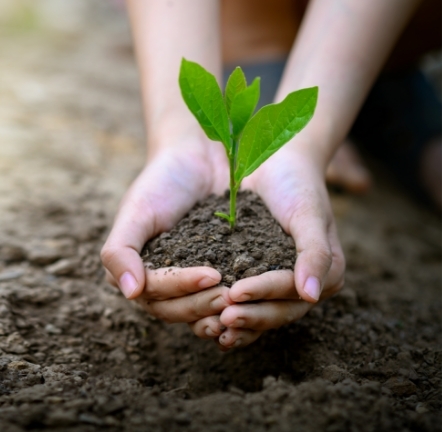 Implementation of the Environmental Law
The company focuses on environmental stewardship for sustainable growth along with business, thus establishing guidelines for business activities along the value chain to be carried out with minimal impact on the environment and climate change, as well as to promote continually conserving natural resources, adhering to compliance with laws, local regulations, and measures related to the environment, including the United Nations Sustainable Development Goals (SDGs), recognizing that promoting environmental quality and maintaining ecological balance is a shared mission of all sectors, also a means of building trust among stakeholders, including customers, shareholders, employees, business partners, and local communities.
Environmental Management and Greenhouse Gas Emissions
In environmental management, the Company gives an importance to its energy usage by protecting and managing its environmental quality with mitigating the environmental impact of the business by improving, modifying and developing the process to become a truly environmental organization. Conclusions of action are as follows:
Reduction of GHG Emissions
Promoting the recycling of materials, especially the Company's main supplies such as paper to be used on both sides before being digested for use as a shockproof material
Promoting the adjusting method of document storage from hardcopy documents to scanning and saving documents as soft files
Choosing appliances that are energy-saving label 5, green label
Adjusting the air conditioner at 25 degrees. It is required to turn off the air conditioner in the break time and during cold weather
Turning off the lights in the factory, and in places where there is no need and during lunch time
Replacing the lamp to save energy
Using dried leaves to make fertiliser
Increasing green area to improve and maintain the scenery of the workplace
In this regard, the Company is in the process of studying the guidelines for assessing and verifying the organization's greenhouse gas emissions, both directly (Scope 1) and indirectly (Scope 2) in accordance with the Thailand Greenhouse Gas Management Organization (Public Organization) and use the results as a guideline for management including disclosing information to stakeholders in the future.
Energy Management

The company always has a key focus on energy efficiency, including energy consumption reduction because it not only brings benefits at the corporate level in reducing production costs but also creates participatory energy conservation and conserve the environment as well. In 2021, the Company's electricity and LPG consumption are at a reduced level as expected.

Performance : Energy consumption in 2021
| | 2021 | 2020 | 2019 | 2018 | 2017 |
| --- | --- | --- | --- | --- | --- |
| Electricity (Kilowatt-hours) | 274,836 | 292,780 | 281,840 | 347,260 | 322,432 |
| LPG (Kg) | 4,365 | 6,543 | 5,007 | 10,392 | 11,307 |
| Diesel (Liters) | - | - | - | 5,400 | 2,800 |
Water Management

The Company is located in an industrial estate area. Therefore, it uses water purchased directly from the Industrial Estate Authority of Thailand. However, the Company is still aware of the risk of the crisis of scarcity of water resources that are becoming more severe and widening, therefore, there is a policy to encourage employees to use water economically by adopting 3R principles is to reduce, reuse and recycle to be adapted as appropriate for the organization.

Performance : Water consumption in 2021
| | 2021 | 2020 | 2019 | 2018 | 2017 |
| --- | --- | --- | --- | --- | --- |
| Water (Cubic Meter) | 5,334 | 4,245 | 9,660 | 5,506 | 5,990 |
Wastewater Management

Wastewater from the Company's processes and activities undergoes the treatment process and checks by Global Utilities Services Limited, a private agency certified by the Industrial Estate Authority of Thailand on a monthly basis. It is ensured that effluent quality meets the effluent quality standards in accordance with the Industrial Estate Authority of Thailand Act that do not affect the communities, environments and living organisms in natural water bodies and report to the relevant governmental authorities by law.

Performance : Wastewater quality measurement as of November 17, 2021
| | Standard* | Measurable |
| --- | --- | --- |
| pH | Between 5.5-9.0 | 7.4 |
| B.O.D. (mg/L) | not more than 500 | 14 |
| C.O.D. (mg/L) | not more than 750 | 28 |
| SS (mg/L) | not more than 200 | 14 |
* Industrial Estate Authority of Thailand Notification No. 76/2560
Waste Management

The Company has a policy to sort out unused materials by type and store in a systematic manner. Before sending to a disposal person who is authorized by the Department of Factory to be used to landfill or proceed in accordance with the law, divided into
Organic waste such as food scraps is fermented to make fertilizer
General waste such as plastic bags, foam boxes and non-recyclable waste is stored for delivery to landfill operations by Thao Boonruang Limited Partnership, a private agency certified by the Ministry of Industry
Recycled waste such as plastic bottles are sent to the buyer for recycling
Degradable waste such as raw materials which is left over from production is distributed to make fertilizer
Performance : Total weight of waste for the year 2021
| | 2021 | 2020 | 2019 | 2018 | 2017 |
| --- | --- | --- | --- | --- | --- |
| General Waste (Tons) | 2.56 | 2.97 | 3.35 | 4.48 | 4.92 |
| Recycled Waste (Tons) | 1.00 | 2.20 | 3.80 | 5.00 | 2.25 |
| Degradable Waste (Tons) | 18.75 | 19.95 | 21.75 | 15.40 | 21.10 |
Environmental protection
Participation in the environmental governance project (White flag, green star) of the Industrial Estate Authority of Thailand to promote public participation in supervising factories in industrial estates. The Company received good -excellent assessment results
The Company has received the green industry certification from the Ministry of Industry
The Company according to the White Factory Project obtained Standard on Prevention and Solution to Drugs Problems in an Establishment Certificate
The Company (Branch office) is housed in an environmentally, friendly building with LEED Gold standards (Green Leadership in Energy and Environmental Design), from the prestigious Green Building Institute of America.
Using natural raw materials that are not harmful to the environment
Controlling raw material quality since the beginning of cultivation by requiring farmers to stop using pesticides at all stages of cultivation
In the manufacturing process that produces dust, the Company uses water to trap dust to prevent the spread of dust particles into the atmosphere