Social Action for Sustainable Development is divided into the following main activities:
Employee Development and Caring
Human Rights and Labor Practices
Safety and Occupational Health
Responsibility for Consumer
Community Development and Support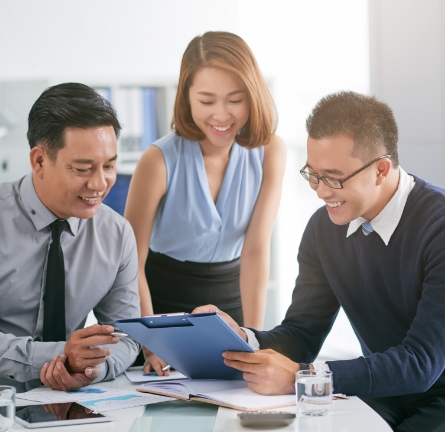 Employee Development and Caring
The Company has the policy to develop and promote the human resources with better knowledge and understanding to bring effective performance, promoting their advancements of career path, and enhancing the Company's competiveness in its core businesses.
The training plans for developing its human resources are divided into three parts
Developing the Company's key potential whereas all employees are educated about its core businesses, acknowledgement of the targets and goals, and awareness of the Company's changes as well as adjustment for the future change.
Developing the employee's efficacy for better knowledge and expertise by allowing them to take courses relating to their duties in order to master their work skills and providing useful books and reading materials to help promoting their knowledge.
Developing the leadership especially the departmental heads and other higher positions to lead the roles and teamwork to prepare for the business targets and changes.
Compliance with Human Rights and Fair Labor Practices
The Company respects the human rights of all employees, and clearly outlines in its policies on human rights policy that the Company intends to treat each and every employee with respect and regards for their personal rights. Moreover, the Company carefully protects the personal information of employees, keeping their information confidential. The Company does not tolerate discrimination of race, nationality, religion, gender, age, disability, or sexual orientation. All illegal acts of discrimination are deemed unacceptable.
Safety and Occupational Health
The Company prescribed "Safety, Occupational Health and Working Environment Policy" and disseminated to employees to practice along with the regular duties. The Company appointed the safety officer, Occupational Safety, Health and Environmental Committee according to the law that establishments with 50 or more employees must have a Safety, Occupational Health and Working Environment Committee. The working group has one chairman and three representatives from employers and employees for operating safety and health systematically in accordance with the Company standards and strict legal requirements to achieve a more secure operation. The aim is to be a non-accidental organization, a safe place to work and a good environment for employee hygiene.