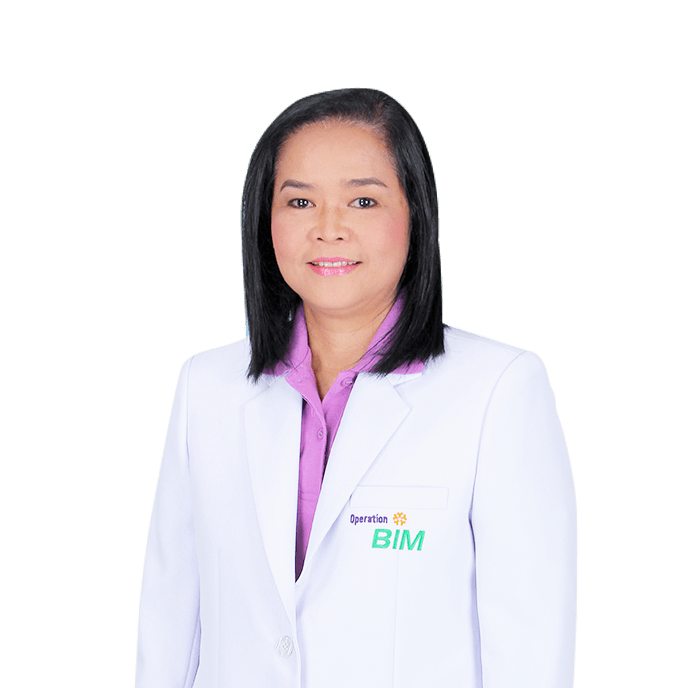 Dr. Siriwan Ong-chai (Yaemniyom)
Education
B.Sc. (Biochemistry) Chiang Mai University
M.Sc. (Biochemistry), Faculty of Medicine, Chiang Mai University
Ph.D. (Biochemistry), Manchester University
Experience
Pharmacological activities of medicinal plants, especially, analgesic, antipyretic and anti-inflammatory, bronchodilator, antihypertensive, anti-ulcer, gastro-intestinal stimulant or relaxant as well as central nervous system activities.
Toxicology testing: acute, subacute, subchronic and chronic toxicity as well as dermal toxicity.
Publication
Phongpaichit, S., Kummee, S., Niltat, L. and Itarat, A. 2007. Antimicrobial activity of oil from the root of Cinnamomum porrectum. Songklanakarin J. Sci. Technol. 29 (Suppl.1):11-16.
Chiyasut C, Tsuda T, Khansuwan U and Ong-chai S. Red blood cell lysis at the single cell level by using a mini electrophoresis apparatus. Chromatography 2002;23(1):33-38.
Ong-chai S, Pothacharoen P, Yingsung W, Sugahara K, Hardingham TE and Kongtawelert P. Changes in serum chondroitin sulfate epitopes in rabbit model of osteoarthritis induced by intra-articular hydrocortisone injection. Osteoarthritis Cartilage 2002; 10 (suppl. A):51-3.
Kongtawelert P, Tangkijvanich P, Ong-chai S, Poovorawan Y. Role of serum total sialic acid in differentiating cholangiocarcinoma from hepatocellular carcinoma. World J Gastroenterol. 2003 Oct;9(10):2178-81.
Chattipakorn SC, Ong-chai S, Kongtawerlert P and Chattipakorn N. (2004) Hyaluronan Profiles in human saliva among differenct inflammatory levels of periodontal condition. J Dent Assoc Thai. 53(3): 170-175
Nganvongpanit K and Ong-chai S. (2004) Biological Marker for Canine Oseoarthritis Diagnosis. CMU Vet J. 2:39-49.
Nganvongpanit K and Ong-chai S. (2004) Serum chondroitin sulfate of healthy dogs related to gender and weight. J Thai Vet Pract. 16(4): 37-49
Ong-chai S, Itthiarbha A, Chaiwongsa R, Molk F, Fernandes P, and Kongtawelert P (2004) Diacereine reduces porcine articular cartilage degradation in explant cultures. Abstract book of the 11th Asia Pacific League of Associations for Rheumatology Congress. Jeju, Korea. page 111.
Kantamoon C, Ong-chai S and Sanguansermsri T (2005) Molecular Characterization of 0-Thalassemia in Patients with Hemoglobin H (Hb H) disease and in Hb Bart's Hydropic Fetus. Royal Thai Army Med J. 58(4):1-6
Nganvongpanit K, Suwankong N, Jitpean S and Ong-chai S.(2005) The changes of serum chondroitin sulfate in the induced osteoarthritic dogs after chitisan polysufate administration. J Thai Vet Pract. 17(3): 27-39
Ong-chai S, Chaiwongsa R, Kongtawelert P and Reutrakul V (2005) The extract of Plai (Zingiber cassumunar Roxb.) inhibits cartilage degradation in explant culture model. Abstract book of the 1st International Conference on National Products for Health and Beauty. 17th-21st October 2005. Maha Sarakham, Thailand.
Pothacharoen P, Teekachunhatean S, Louthrenoo W, Yingsung W,Ong-Chai S, Hardingham T, Kongtawelert P. (2006) Raised chondroitin sulfate epitopes and hyaluronan in serum from rheumatoid arthritis and osteoarthritis patients. Osteoarthritis Cartilage. 14(3):299-301.
Pothacharoen P, Siriaunkgul S, Ong-chai S, Supabandhu J, Kumja P, Wanaphirak C, Sugahara K, Hardingham TE, Kongtawelert P (2006) Raised Serum Chondroitin Sulfate Epitope Level in Ovarian Epithelial Cancer. J. Biochem. 140, 517 - 524.
Hartwell SK , Somprayoon D, Kongtawelert P, Ongchai S, Arppornchayanon O, Ganranoo L, Lapanantnoppakhun S, Grudpan K. (2007) Online assay of bone specific alkaline phosphatase with a flow injection-bead injection system. Analytica Chimica Acta 6 0 0 ( 2 0 0 7 ) 188 - 193
Ukarapol N, Wongsawasdi L, Ong-chai S , Riddhiputra P, Kongtawelert P (2007) Hyaluronic acid: Additional biochemical marker in the diagnosis of biliary atresia. Pediatrics Int. 2007; 49:608-11.